CoeLux® lights up the Qantas lounge at Singapore Changi Airport
People usually don't pay particular attention to the time they spend in an airport, considering it just somewhere they are passing through on their way to their final destination. Air transits, especially in huge intercontinental airports such as Singapore Changi airport, can however take hours. Qantas, placing its travellers' welfare first, has built a luxury lounge in terminal 1 providing every comfort to focus on the personal space of its travellers, and it picked CoeLux® to light some of the areas of the lounge.
Created by the Australian Caon Studio and Akin Atelier, the Qantas Lounge is an open space spanning 1,000 square metres, offering multiple relaxation areas, a cocktail bar, a VIP room and bathrooms with showers. The various areas are defined by partitions and walls with strategic apertures to favour privacy without weighing down the setting.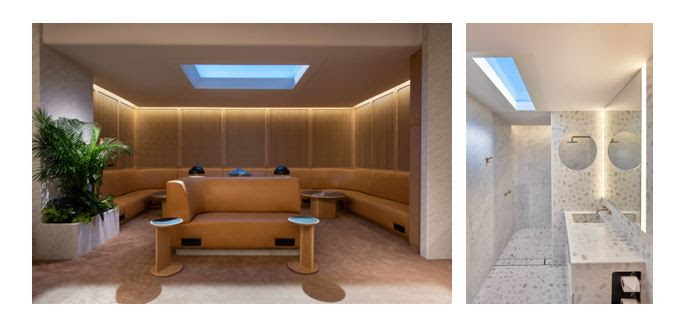 CoeLux 45 HC and CoeLux LS Matte were installed in the VIP areas and in the bathroom suites, to offer visitors the feeling of being under a clear-blue sky and a bright sunshine, thus savouring the wait for their next flight while relaxing, and helping with any jet lag caused by any long-haul flights already taken.
Welfare is a value that is increasingly top of mind among contemporary travellers, and nature, technologically recreated by CoeLux systems, helps re-establish a link with the sky. CoeLux systems recreate a natural atmosphere thanks to the perception of depth and the quality of the light emitted, enhancing comfort levels in high-traffic contract settings, such as stations, airports, shops and galleries.
---